We offer facials and skincare that cater to every skin type. Beautiful, glowing skin is just a click away. All our facials and products are medical-grade and are fully customized to suit all your skin concerns. Our licensed estheticians cannot wait to give you healthy, radiant skin.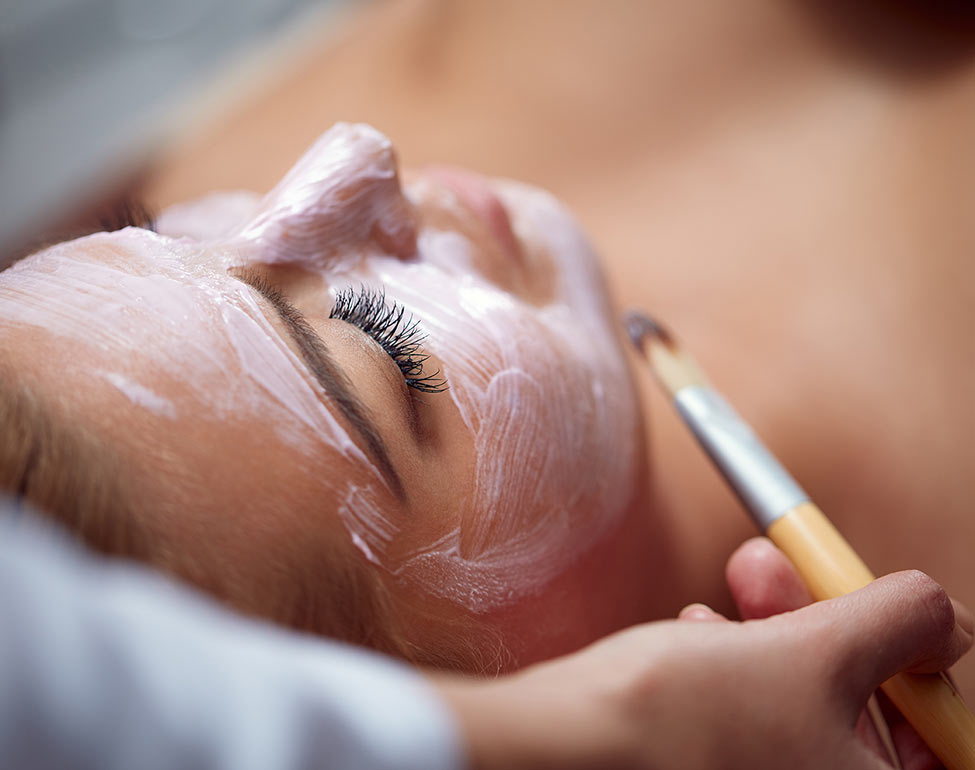 A manual chemical free exfoliation that uses a medical grade sterile blade that glides across the skin's surface at a 45-degree angle to slough off the dead skin and "peach fuzz" on the epidermis leaving the skin very smooth and vibrant. This facial includes cleansing of the skin followed by a customized masque using medical grade products. Finally, this treatment ends with customized medical grade serums and a moisturizer to suit your skin needs. Dermaplane can be added to almost all facials and some peels for an increased product absorbance. This treats most skin types and leaves the skin looking healthy and radiant.
A customized blend of ZO medical grade product formulated to cater to your skin's needs. No-downtime, resurfacing treatment for all skin types, even sensitive and fragile skin. Your esthetician will begin with a skin analysis and choose a customized ZO protocol followed by a thorough cleanse. Then your esthetician will exfoliate your skin, which aids in product absorption and penetration. Next, a stimulator peel, followed by extractions. Lastly, treatment will end with medical grade serum, moisturizer, and SPF. (Includes dermaplane)
A HydraFacial uses patented technology to cleanse, extract, and hydrate skin while infusing highly effective medical grade serums tailored to your specific skin needs. This unique process helps improve the appearance of several skin concerns, including fine lines and wrinkles, skin firmness, texture, uneven skin tone, reduces congestion, minimizes the appearance of pores, removes dead skin cells, and provides hydration. Suitable for all skin types, this rejuvenating treatment is gentle, non-invasive, and effective immediately.
Our advanced hydra-dermabrasion procedure that resurfaces the skin and delivers immediate results. HydraFacial treatments utilize super concentrated serums filled with antioxidants, peptides, and hyaluronic acid to treat skin of all types while boosting hydration, address signs of aging, and protecting the skin from environmental damage. This is the newest generation of microdermabrasion with 3 steps that improves the appearance of fine lines, wrinkles, congested and enlarged pores, oily or acne-prone skin, hyperpigmentation, and brown spots.
The Gentleman's HydraFacial treatment will include extended extractions, Blue LED Light Therapy to help aid in the removal of congestion and kill acne-causing bacteria.
The Deluxe HydraFacial treatment includes the three-step system as the Signature HydraFacial, along with a customized booster, and LED Light therapy to address fine lines and wrinkles, increases blood circulation, decreases inflammation, and calms skin to reduce redness.
Our most advanced HydraFacial skin resurfacing treatment to help maximize your results. This includes all of the benefits of Signature HydraFacial along with a detoxifying lymphatic drainage to boost the immune system, increase blood circulation, and reduce inflammation, customized HydraFacial Booster, and LED Light Therapy to address skin concerns like acne, texture, hyperpigmentation, and fine lines & wrinkles.
Keravive is a unique treatment that is designed to cleanse, exfoliate, nourish and hydrate the scalp. This helps to promote healthier and fuller-looking hair for all skin and hair types.
Aqua Gold
Dermaplane
LED Light Therapy
Lymphatic Drainage
Booster Serum